Happy Friday gang!!! Yep, it's time again for another great challenge over at Scrap Your Story!!!! This week's challenge is a sketch challenge and here is the sketch:
I had some photos of my youngest daughter at my oldest daughter's birthday party last year that I've really been wanting to scrap. I also received a fabulous prize pack of October Afternoon papers from Melinda over at Let's Get Sketchy that were absolutely PERFECT for this challenge!!! Here is my "finished product":
She really is just too cute!!!! I told you the papers were perfect for the photos!!!! The collection is called "Fly A Kite" and really is great for "summer" type photos, even though this was taken in mid December!!! Gotta love Florida!!!! Hahaha!!!! I put my Martha Stewart punch to good use and added some embellies by Soft Spoken to finish this off. Truly a beautiful girl :-)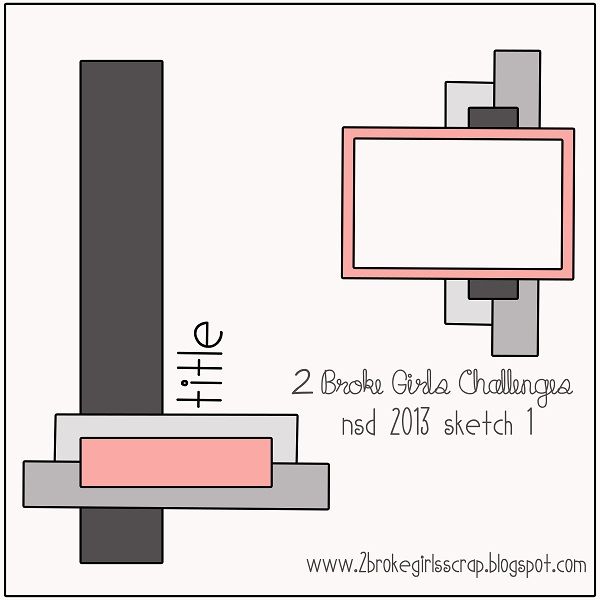 I flipped it to accommodate the photos and added random embellies from the kit. I cut up some hexagons from a paper in the collection, then added them to various areas around the page. I also used pop-dots on some to add depth!!!
Another challenge this week is my Twisted Thursday weekly challenge over at Sketches4All where this week's challenge is to create something using only two colors and a stamp. I decided on a card for my friend's wedding last weekend. Here it is:
I made a standard A7 card and used a corner punch to accent it. I pop-dotted the frame around the center for added detail. I stamped the sentiment and images using Memento ink in Tuxedo Black, then cut out the champagne glasses, colored them in, and pop-dotted them for added effect. I truly am happy with how this came out!!!
And last, but certainly not least.... For my monthly Tag Challenge over at Sketches4All, I decided to "Add A Tag" to a card!!! The challenge is to add a tag to anything... A card was perfect for this one though!!!
I've been playing quite a bit with the Pink Paislee "Secret Crush" collection and made this beautiful tag/card combo with it!!! Here it is:
I made the tag first, adding various embellies from the paper kit, a Prima heart-shaped button, wooden clock by Recollections, ribbon, twine, and various flowers. I then made a very simple card and added this to the cover with a mini "clothespin"!!! Isn't it just lovely?!?!?
Well gang, hope you have a Happy Friday!!!! Thanks for stopping in and have a LUCKY day :-)